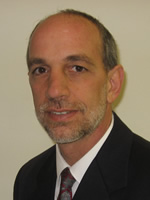 Mark K. Hammaker, P.E. &nbsp Principal/President Mr. Hammaker earned his B.S. in Mechanical Design Engineering Technology (The Pennsylvania State University, 1982) and M.E. in Environmental Pollution Control (The Pennsylvania State University, 1994); is a registered professional engineer in Pennsylvania; is a Board Certified Environmental Engineer (Hazardous Waste Management) by the American Academy of Environmental Engineers (www.aaee.net); and is a Qualified Environmental Professional certified by the Institute of Professional Environmental Practice (www.ipep.org). He has over 20 years of professional engineering and management experience, the most recent 14 years in environmental engineering. As Principal Project Manager for AEM, he provides clients hands-on senior technical and management experience and strategic planning assistance for programs involving site characterization, remediation alternatives evaluation, and remedy implementation oversight and monitoring.
Mr. Hammaker's practice with AEM emphasizes: (1) senior technical consultation, and project management for characterization and remediation of multiple domestic and international industrial properties linked to divestiture liability obligations; (2) quality assurance/quality control (QA/QC) officer for the ongoing investigation of soil and groundwater contamination with PCBs, heavy metals, and TPH, including performance of QA/QC audits of field activities; (3) technical specifications preparation and implementation support to guide site assessments for four primary constituents of concern, (asbestos, lead, mercury and PCBs); and (4) technical review of major contaminated sediment remediation projects.
Mr. Hammaker has considerable project experience in: negotiating with regulatory authorities and agencies on behalf of his clients; analyzing remedies for contaminated sediments; evaluating contaminated sediment removal and treatment technologies; providing on-site construction oversight; developing risk management controls for contaminated facilities; estimating air emissions from contaminated soils and fugitive emissions sources; performing technical evaluations of wastewater treatment facility process removal efficiencies; and assessing ground water remediation techniques.
Mr. Hammaker has been instrumental in the development and maintenance of a Database of major contaminated sediment sites in US waterways (e.g., rivers, lakes, harbors). This ongoing program involves the collection and distillation of relevant technical information on proposed remedies for sites containing contaminated sediments. These efforts have involved internet research and interface with key operatives in sediment remediation to define site characteristics, remedy implementation outcome, and cost for over 120 contaminated sediment projects nationwide. The Database also includes multiple miscellaneous projects and other contaminated sediment-related research and documents, project-specific document reviews, and summaries of pertinent project information. In conjunction with these efforts, Mr. Hammaker has co-authored several papers on various subjects associated with contaminated sediments and environmental dredging.
A complete resume can be provided upon request.
Home Office: 181 Bridge Street, Phoenixville, PA 19460
(T) 610-251-0450 | (Email) MHammaker@aem-inc.com